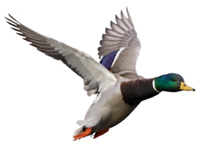 In the myth and legend of breakthrough businesses, a certain personality type was frequently credited with grass roots innovation and spontaneous process improvement. This personality type was characterized by a restless discontent with the status quo - but this restlessness was expressed in a positive and creative manner. The attitude is best understood if you picture an energetic subordinate telling his boss: "We can do better than this - darn it!"
People with this attitude came to be known as Wild Ducks. This is an attitude that SRH Consulting cultivates in its Business Process Optimization practice.
If you need a Wild Duck to help your company achieve a breakthrough - or if you are a Wild Duck looking for a new challenge - SRH Consulting would like to hear from you. Contact us today!